Hot List 2022 Condé Nast Traveler: Explora El Chaltén
South America's pioneering luxury lodge operator Explora brings its model of all-inclusive adventures to Argentinian Patagonia with this modular 20-room property.

Reviewed by Mark Johanson at www.cntraveler.com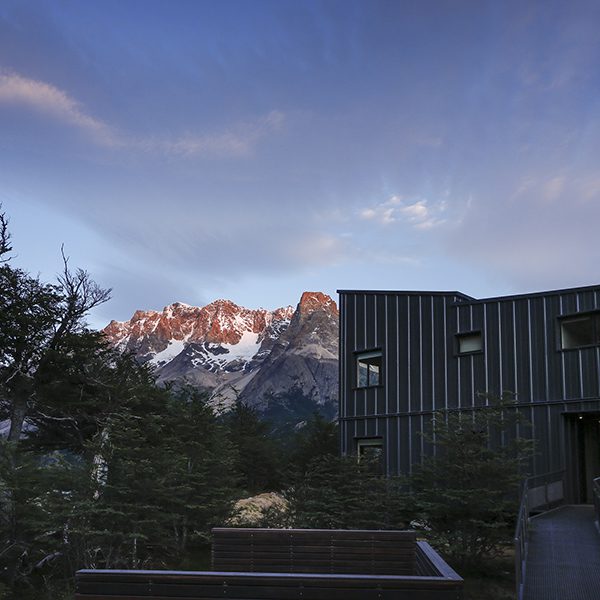 Why book?
The remote wilderness of Patagonia can so often feel inaccessible to the casual visitor. Not so at this excursion-based adventure lodge, which makes Patagonia not only accessible but approachable from a comfortable base in El Chaltén, the youthful resort town at the northern end of Argentina's glacier-packed Los Glaciares National Park.
Set the scene
The hotel is set within the private 14,000-acre Los Huemules Conservation Reserve, which lies just ten miles north of El Chaltén but takes about 45 minutes to reach thanks to bumpy gravel roads. No matter: The view once you arrive is the kind you'd hike hours to see: a huge hunk of ice, the Marconi Glacier, glistens out of every window at the end of the sharply-hewn Eléctrico Valley. Constructed in the wine region of Mendoza, the hotel was literally trucked down to Patagonia in 117 pieces and assembled on stilts to reduce its environmental impact. The result is a modular building that prizes soothing earth tones, clean lines, and "the luxury of the essential." It's a place where couples in Arc'teryx jackets gather each evening over maps to choose the next day's guided adventure, swapping tales at the bar of mountains summited and rivers crossed before crashing early to do it all again the next day.
The backstory
Explora has become the gold standard in South America for high-end, action-packed vacations ever since it opened its first all-inclusive adventure lodge in Chile's Torres del Paine National Park in 1993. Its hotels place visitors right in the heart of some of the continent's most spectacular landscapes (including the Sacred Valley of Peru, Rapa Nui, and the Atacama Desert) with the goal of providing a comfortable base to return to after strenuous outings. Explora El Chaltén is the Chilean brand's first hotel in Argentina, and it picked a stunner of a spot for it in the nation's longtime trekking capital, which had, until now, lacked an upmarket lodge with spa services, fine dining, and multilingual guides. Like all Explora properties, it preaches the gospel of sustainability and sources nearly all of its products locally. That includes the earthen ceramics, which are made with stones from Tierra del Fuego, and the bath products, which were crafted with the citrusy Patagonian herb paramela.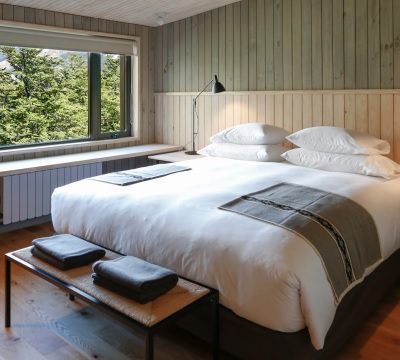 The rooms
Explora likes to keep it simple when it comes to the rooms, which some guests can find underwhelming. I felt that way at first about the stripped-back design, but then I understood the reason: It's meant to keep your eyes focused on the view out your window, not some evocative painting, playful textile, or other distraction. (Note: the best views are on the upper level of the hotel; rooms down below have to compete with some southern beech trees.) After a full day hiking under the summer sun, the simple layout, wood-paneled walls, and calming earth tones of the 17 standards and three suites set your mind at ease. Of course, Explora splurges where it counts with plush king-sized beds, strong showers, and ample space to store your hiking gear. There are also fun mood-setting amenities like an insulated canteen of hot water for tea, which let me pretend I was actually roughing it out in the woods on a camping trip.
Food and drink
Pablo Jesús Rivero, owner of the award-winning Argentinian steakhouse Don Julio in Buenos Aires, helped craft the menu for the on-site restaurant—which, like everywhere else in the hotel, has a thoroughly engrossing view of the Eléctrico Valley. There is always a vegetarian option, but this really is a place for ardent carnivores, who are encouraged each evening to watch as Patagonian lambs (or other regional produce) are cooked over an open fire in a smoky room by the kitchen. The flow of the meal service can become a bit confusing as plates of roasted meats and veggies come out to the table unannounced (there's no written menu), leaving you unsure which wines—all from the northern Patagonian regions of Rio Negro and Neuquen—would be best for pairing. What you can expect is that every meal will begin with a piping hot empanada baked in a mud oven, which might be filled with cheese and greens or meat and potatoes. Over at the adjacent bar, house cocktails pair the local Gin Pascasio (from nearby El Calafate) with a tincture of calafate berries for a G&T with the flavor of the land. During full-day outings, the restaurant team prepares sandwiches or grain bowls for box lunches, which I found a bit underwhelming (and small) after working up an appetite on the trail. Then again, there are always more snacks (and craft beers) waiting in the van that takes you back to the lodge.
The spa
Explora focuses on getting you away from the hotel more than it does on keeping you around. If you're willing to forego an outing, however, the simple spa is a good reason to do so. There are five open-air hot tubs with calming views of the ñirre forest, as well as two indoor saunas and a small relaxation lounge. The reason I came to the spa was for a massage after a strenuous ascent, which helped smooth out those sore muscles and prep me for another outing the following day. While hard-core wellness folks might find it underwhelming, it serves its purpose as an area for decompression after moments of high energy.
The area
I'd assumed that the Los Huemules Conservation Reserve would be a pretty, if wholly inferior park to the neighboring (and much more famous) Los Glaciares National Park. That couldn't be further from the truth. Just a mile away from the lodge are two Andean lagoons with wowing views of Mount Fitz Roy, the castle-like 11,171-foot peak on the logo of the Patagonia clothing brand. You can also hike to two glaciers that slide down from the Southern Patagonian Ice Field or search for the park's namesake huemul deer, an endangered species. The best part is that you begin and end these hikes from the hotel and only share the trails with a handful of other hikers. Meanwhile, popular trails like Laguna de los Tres in Los Glaciares National Park can feel like a stampede at the height of summer.
The service
Your trip to Explora really begins at the airport in El Calafate nearly four hours away. Included transfers stop at the historic roadhouse of La Leóna halfway and then again for the pictures you'll no doubt request to take on the road into El Chaltén when Mount Fitz Roy looms large over the Patagonian steppe. At the hotel itself, it's the expedition team (almost all of whom are female) who truly shine, answering questions before you can even think of them and effortlessly switching languages to assist different travelers. They help you not only navigate difficult landscapes, but also understand them better. Service from the hotel staff is cordial and casual (sometimes a bit too casual), though they try to address any needs that can be realistically met in this remote location.
Eco effort
Explora is a Certified B (or B Corp) company that works to address climate change, stimulate the local workforce, and provide benefits to the community by sourcing most of its products locally. Beyond being carbon neutral, it's also working to retroactively compensate for historical carbon emissions all the way back to its founding in 1991. The Los Huemules Conservation Reserve is not only the setting of its latest hotel, but also one of the many conservation projects in South America for which Explora is a stakeholder.
Anything left to mention?
As fantastic as the expedition team is—and really, they are some of the best guides I've encountered—they aren't actually the ones who decide what's possible and what isn't. The weather determines everything in these southerly latitudes of Patagonia. It's not uncommon for wind gusts here to reach hurricane strength, making it impossible to do some of the longer and higher-altitude hikes. Sure, you might get a great weather window where you're able to tackle everything you'd hoped to do. But you may just as easily be rerouted onto smaller, more protected trails for your own safety. I stayed four nights, but I think five is the minimum you really need to see the whole region and bank some blue-sky days.