Moai Tau returns to Rapa Nui after 152 years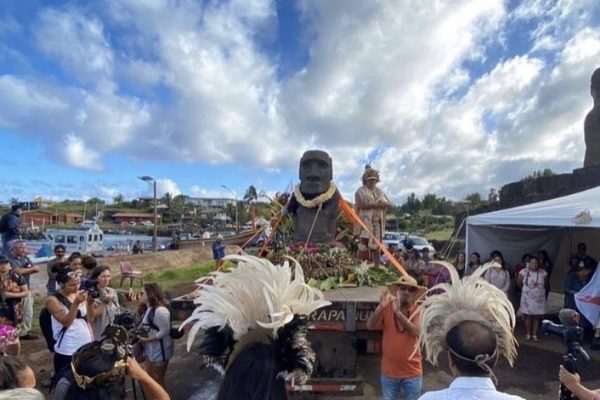 After 152 years, the Moai Tau returned to Rapa Nui after being on display at the National Museum of Natural History (MNHN) in the Metropolitan Region of Chile since 1878.
The Moai began the process or returning to the island on 21 February 2022 after several technical tests where its transport was analyzed to ensure that the work did not suffer any structural damage.
This monolithic figure made of basaltic rock weighs 715 kilos and is mounted on a 230-kilo concrete platform.   A new 116-kilo metal base was built for its transfer, in addition to special packaging for its protection, which weighed 194 kilos.
The final stage of the trip was last 7 March, beginning with the Moai Tau's landing in Rapa Nui aboard the Navy barge Rancagua and its transfer to the barge belonging to Sociedad y Servicios Isla de Pascua (Sasipa). Once transferred, the Moai was taken to the port of Hanga Piko, escorted by a Polynesian canoe group until its arrival.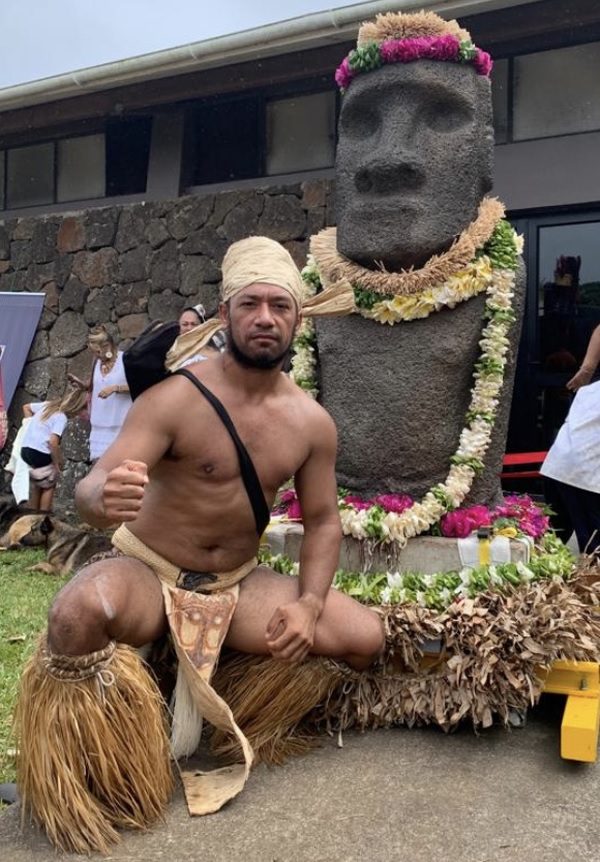 Once in port, it was received with a ceremony in its honor and a small Umu Hatu was performed for good vibes and to bless the start of installation work. It was then taken to the Padre Sebastian Englert Anthropology Museum in Rapa Nui, where it is currently located.
It should be noted that the Moai was returned as part of the "Ka Haka Hoki Mai Te Mana Tupuna Repatriation Program," which seeks the return to the island of the bodies of its ancestors, its sacred and funerary objects, and fulfills the commitment to restore heritage items like the Moais and the Ivi Tupuna (bone remains of ancestors) held in the National Museum of Natural History.
Explora Rapa Nui Manager Gonzalo Droppelmann mentioned how important this event is, as it marks a before and after on the island. He also paid homage to the work done by Mama Piru (Ida Hucke), was an important local activist who started the movement for the repatriation of archeological objects and died 3 years ago.
"It fills us with joy to see how the legacy left by our friend Mama Piru is more alive than ever. This is a great conservation effort, with many years of work behind it. There is not a long history of this type of initiative to repatriate objects; it's something relatively new and of high value. Rapa Nui is making history," said Gonzalo Droppelmann.
ANCESTRAL CULTURE
For the Rapa Nui people, the moais represent the spirit of their ancestors and are considered a person's reincarnation, storing their ancestral energy. they are called Moai Aringa Ora in the local language, which means "the living face of our ancestors," whose purpose was to conserve the energy of the deceased, the manna, to protect the tribe and to care for its crops and animals.
Source: BioBio Chile and Chilean Government