Just walk away
An elegant stay amidst the wilds of Patagonia by Jonathan Franklin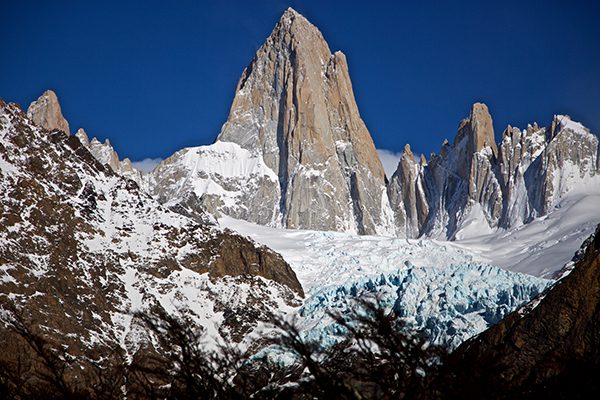 Hefting a 20-kilo rucksack holding a knife, a first aid kit and a walkie-talkie, German Bellene, a burly Argentine mountaineer, crosses a ridge high above Parque Nacional Los Glaciers. Several thousand feet below, a string of turquoise lakes fed by melting glaciers are ringed by a forest of dwarf evergreens twisted Daliesque by a constant river of wind. Bellene tries to record a short video but the wind bursts like a crackling fire and screams through the microphone. He abandons audio and marks the GPS location.
Then a gust whirls up the mountain and smacks Bellene. He nearly topples but his gaze remains glued to the horizon and the heft of Monte FitzRoy, a shrine of granite and snow that soars 3,400 meters straight up and like a mad talisman every year attracts climbers and hikers from the far corners of the world to tiny El Chalten, an Argentine village tucked in the folds of the Patagonian Andes. With his swollen lips, toasted nose, and eyes raccoon-ringed with the silhouette of mountaineering glasses there is little doubt that Bellene is a member of the tribe; these inspired climbers who proudly proclaim themselves "conquerors of the useless".
Four hours later when he walks through the door of El Fresco, a rowdy watering hall in El Chalten, Bellene recounts this adventure with evangelical enthusiasm. The bar feels like the frontier as patrons dump mountain bike on the front porch, and hook an anorak under the bar.
Bellene orders me a draught beer (generically called schopp) as the room is pounded by a '80's rock and pop soundtrack.  Like every establishment in this 1,600-person hamlet (that modestly touts itself as Trekking Capital of Argentina) this lively bar is wrapped by national parklands on all sides. As he scrolls through photos of the route, Bellene is ecstatic as he describes guiding guests from the brand new Explora El Chalten hotel into the mountains of Patagonia and taking them close to the fabled peaks of Cerro Torre and Monte Fitzroy.
As Bellene settles into a birthday party of fellow climbers, guests, guides, and local musicians, I appreciate my fortune at finding this little paradise. Closer to the Antarctic Peninsula than the equator, El Chalten radiates passion. It takes a love and respect for the wild to travel so far off grid. I have a detailed map of Patagonia and still it's not easy to find this place.  It took two days to get here yet less than 24 hours after arrival I fantasize about losing my passport. I want an excuse to stay.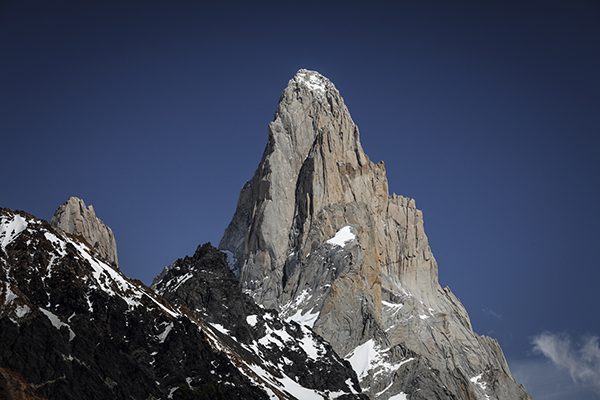 I leave German and join the rowdy fray inside the bar although I feel notoriously clean shaven. Ditto the shame I feel for my clean red sweater bought in the highlands of Cuzco. Fellow city slickers are tagged by their Gore-Tex that look more laundered then battered. My urbane baby-alpaca-look tattoos me as an outsider as much as had I shown up in a tuxedo. I don't tie a bandana to my forehead or apply henna tattoos, but the ideas cross my mind during these first few rounds of draft beer with climbers who carry a healthy glow yet harried humor. Talking to them is a bit like chatting up a hermit who is a little too eager to share stories with other humans. A giddy laugh makes one climber's eyes gleam. I have seen that look in the eyes of surfers.  It's the adrenaline rush of defying death and still making it back in time for Happy Hour.
I am astounded at how many people are packed into the one-kilometer-long stretch of bars, restaurants, and more bars that runs through this town molded by a spot on the valley floor that's hemmed by the confluence of roiling rivers that often carry chunks of ice. Wasn't the town empty all day? While waiting for Bellene to come down, I had rented a bike and explored all 12 blocks by 5 blocks of this outpost.
Beginning in the 1940's, both Monte FitzRoy and Cerro Torre were considered among the most difficult expedition climbs in the world. Cerro Torre and Fitz are clearly not the highest. But as a vertical dare for those with an itch to test themselves, few proving grounds are more storied than the flanks of these beloved peaks which are less than half the height of Everest yet considered far more challenging given the wind and smooth faces shooting hundreds of feet straight up. Cerro Torre was not officially climbed until Italian Cesare Maestri summitted in 1970 – 17 years after Tenzing Norgay and Edmund Hillary conquered Everest. Controversial claims by Maestri of a pioneering ascent of Cerro Torre in 1959 are widely disputed. Even today, a half a century after that first ascent, Torre bestows world class bragging rights for those few climbers who scale to the top of this needle-like spire.
The triangular peak of Monte FitzRoy is so perfectly sculpted that for many years mapmakers mistakenly labelled it as a volcano. Visible from far across the flat pampa fields, FitzRoy projects sheer power, allowing for the sensation that as much as the iconic mountain rose from beneath the sea it might just blast away into the heavens. Fitz (locals affectionally refer to the mountain as one would mention a friend) feels like a foreigner that landed from another planet. And to the legions of climbers who flock here, it burns with an inexplicable allure. Might Fitz transport them into the next dimension?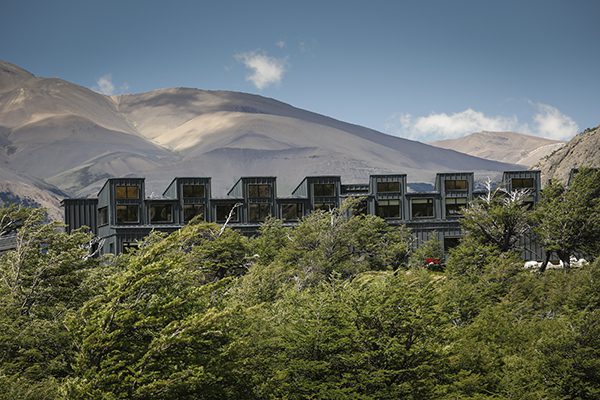 This remote region was first brought to the attention of the world by a 1968 epic road trip that included Yvon Chouinard, the founder of Patagonia clothing company and Doug Tompkins the founder of Esprit and North Face. During a brutal 31 days in which they were entombed in an ice cave by the howling winds high up the mountainside, Tompkins and Chouinard held day's long conversations. On the flanks of FitzRoy they shaped their climber's ethos into a vow: whatever business they hefted upon their shoulders; they would imbue it with the passion of a grand expedition.
Without weather forecasts, detailed maps, or any clear idea of how to scale the nearly vertical slab, Chouinard and Tompkins attempted to summit FitzRoy using wool gloves, artisanal sweaters, and a camping stove the size of a grapefruit. They boosted their energy by boiling mutton hacked off lamb they purloined from ranches down in the valley. Their 1968 Fun Hogs Expedition to Patagonia (later enshrined in the documentary 180 Degrees South chronicling their 8,000-mile van trip from San Francisco and culminating with the first summit by American climbers) was a milestone moment in the birth of a new vein of counter-culture capitalism led by best friends Chouinard and Tompkins.
I came to El Chalten from my home in neighboring Chile, where after two years writing books during lockdown, I was eager to get offline. My seven daughters (yes, seven) concurred: Dad needs time off. Flying in from Buenos Aires my expectations were minimal. I was already reveling in the promise of five days with no kids, no meetings and limited to (hopefully) no internet access.
I was staying at the latest creation from Explora, a hotel chain I knew well from my earlier adventures on the other side of the Andes in Chilean Patagonia. Founded in 1993, Explora is run by Gonzalo Undurraga, the former CEO of LatAm airlines who shifted his business from flying millions around the globe to hosting a select few thousand in Explora's half dozen boutique South American hotels.
With Explora I was guaranteed a luxurious base of operations and day trips led by the region's most experienced guides.  Built by assembling more than a hundred prefabricated interlocking parts, the hotel is a low impact construction built inside Los Huemules conservation reserve – named in honor of the huemul, an endangered deer that is the national animal of Chile and the focus of rewilding efforts throughout Argentine Patagonia.
The hotel is designed and built to cause minimal impact on the environment. Instead of disrupting the location with years of construction, the hotel was built further north in Mendoza and delivered in pieces that filled 132 loads on a convoy of flatbed trucks.  As a certified B corp Explora not only guarantees that day-to-day operations are carbon neutral but has commenced a plan to eliminate the company's historic carbon debt dating to the chain's founding in 1993 by Pedro Ibáñez, a pioneer of Patagonia tourism who understood that "exploration is not a fad, it is something intrinsic in human motivation throughout history."
This new Explora is 30 minutes south from El Chalten along a rocky road that feels like the teaser for a Red Bull adventure film. The driver negotiates the van across a wooden bridge above ice clogged glacial run-of as I count the massive waterfalls pouring down the rock faces in the distance. Arriving at Explora, I settle in for a cappuccino in a tennis-court sized living room perched above a crashing river. A row of giant windows amplifies my sense that I am looking at thew world from inside a forest. Hardwood floors and blonde beams belie a sense of elegance further evoked by a map room, a small library, and a full spa.
Despite the aesthetics of clean, simple lines Explora El Chalten provides a sense of dynamic possibilities.  The floor hums with the whistle of wind. My bedroom mixes the museum-quality lighting of a London Penthouse with the views that remind me of British Colombia. Scanning out the window and up the valley, I spot sandy beaches studded with boulders, a mountain peak crowned in snow and shrouded in clouds leads me back to the maps. But there are so many peaks, and so many rivers, all I can be certain of, is that this desk facing this paradise invites inspiration. As does the giant bed. But honestly, I want to use these luxuries as little as possible. When I sleep, no doubt the mattress will be a beloved remedy for aching legs and shorn shoulders. But having just arrived, even a massage at the Explora spa seems like a waste of an hour. I'm sure my tastes will adapt, but nature beckons and after a year and a half of COVID-19 insanity, I need the outdoors.
The following morning after perusing a menu of expeditions, I survey my options and I am evaluated as well. Explora insists on providing guests with full disclosure regarding the difficulty or challenges of the varied walks and hikes. Fortunately, I receive the green light to choose the expedition at my pleasure. My instinct says two half day walks with a leisurely lunch in the middle. "That will never happen," laughs Aimé Ramunda, Explora's lead guide. "I've seen it so many times, after one hike it's nearly impossible to get up and go out again. Better we make a full day of it. Can you walk for eight hours?"
Here was the test of my will power. Did three weeks of bicycle riding through the urban chaos of Santiago, Chile qualify me for a full day hike? We'd find out soon enough, I thought as I laced up my worn hiking shoes. Like a farmer inspecting a horse, Aimé grasped my shoe, and holding it close to her face took stook of my treads. Were these newbie cleats, never worn? Were they soulless shoes, useless outside the city? My shoes passed the sniff test, the sturdy cleats adequately worn down to prove that I wasn't some complete newbie. Still, Aimé objected. "They could have bigger teeth," she sniffed.
Our hike was designed to keep us in the shade – a blistering sun rises at 5:30 and sets at 9:30 promises sixteen hours of sunlight. From the menu of expeditions, I chose a forest walk, then up a side of scree, across a moraine and into an Alpine-style refuge for either hot chocolate or a glass of fruity Argentine Malbec wine depending on my state of mind. We will have an overlook of  FitzRoy range from the South and from an angle I've never seen despite weeks ogling photos as I prepared for the trip.
A minute after leaving my hotel room, the soundtrack switches. Instead of voices, I notice a hush then a roar. The wind suddenly stops, then a blast whips above us as we walk under the protective canopy of a miniature forest which looks fragile yet protects a forest floor flush with ferns and dozens of tiny streams no wider than a stride. The trees are whirled and whorled as branches form circles, spirals, and shapes I associate with seashells. A staccato soundtrack echoes about as a crew of redheaded Magellanic woodpeckers extract insects from bleached white trunks. Alongside a remote lake, we stop for an extended picnic. Curry-flavored lentils in a Thermos never tasted so rich and slices of freshly baked bread help recharge my legs. As we eat, Aimé regals me with tales of traveling with her parents –pioneering guides who allowed her at age fifteen to strike out on her own and lead horse treks deep into the Andes.
After lunch we continue hiking higher, across a field of scree and approaching a glacier field where a tongue of ice pours off the peak and dips shoreside into a glassy grey lake. A solitary cabin that provides rest and refreshments for the Explora team sits on the water's edge, smoke pouring from the chimney and a stack of firewood to last a week if needed feeds a kitchen churning out fresh empanadas that accompany a surprisingly robust selection of wines considering that every bottle is hauled over several mountain valleys.
At the next table over, a young family celebrates their six-year old's perseverance, he has traversed eight kilometers through forests, across hanging bridges and is now engulfed in lunch but also peering into a small telescope set on a tripod and pointed towards the glacier. Excitement bubbles from his mouth. It wasn't my child, but I felt proud anyway. This is how we are supposed to live. Returning back to the hotel, the continually changing view of FitzRoy as we descend hypnotizes and provokes awe from even the most experienced mountaineers. My guide Aimé confesses, "When I first saw FitzRoy, I cried."